Mermaid on vacation =)
While I was relaxing in the car, on the beach, in the hotel room, and by the pool...I finished two books that I've been reading in bits and pieces for several months! So exciting because my reading/writing time is very limited and writing usually takes priority over leisure reading, unless the book is spectacular (like Hunger Games trilogy last year) or I'm doing a critique. Priorities!
Here is the first of my two reviews...
THE PERICLES COMMISSION by
Gary Corby
.
One Word: Enlightening!
This fast paced mystery is set in ancient Greece. Mr. Corby weaves the fascinating customs and practices from the age of the beginnings of democracy into a thrilling tale of deception and murder! Though some of the names are hard to pronounce, the characters are intelligent, conniving, and well written, leaving you guessing who done it as we follow Nico through one exciting predicament after another. And along the way he receives help from an unlikely source - a woman! The dashes of humor sprinkled throughout also add to the fun of this adventure through historic Athens, including the irony of Nico's annoyingly intelligent little brother, Socrates!
Here is the awesome first line:
A dead man fell from the sky, landing at my feet with a thud.
Totally recommend this unique mystery! And the next book, THE IONIA SANCTION is out now too!
I also finished
THE NIGHT CIRCUS by
Erin Morgenstern
One Word: Enchanting!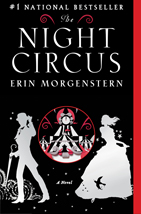 Another trip back in time, but not quite so far. This fanciful tale takes place at the turn of the 20th century, when men wore hats and women wore gowns and magic was real. The language is romantic, the scenes eloquent, the story a delightful labyrinth. I love books that surprise me and the way Ms. Morgenstern unfolds this tangled tale is like opening a carefully wrapped Christmas present. The descriptions of characters and settings are delectable, with extravagant costumes, sensory stirring scenes, and impeccable metaphors. Caught up in an intricate game, the two contenders enrapture everyone around them with their talents, including the reader. Emotional highs and lows and breathtaking visions. Can't say enough about how warm and fuzzy I felt reading it!
Here is an excerpt to tempt you:
"Secrets have power," Widget begins. "And the power diminishes when they are shared, so they are best kept and kept well..."
I hope you add this to your TBR list. I know I will be looking for more imaginative tales by Ms. Morgenstern!
Now to start the next three books on the TBR list! What are you reading?