A poem and a quick prompt contest.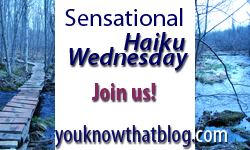 The poem is for Haiku Wednesdays at
You Know...That Blog
and the theme this week is Distance. I took a favorite scene from a classic movie and fit it into Haiku form. Recognize it?
Like what? Like, uh, track!
Whaddaya mean, like running?
No, not just running.
It's something that needs
endurance and stamina.
Long distance running.
Cross country running.
Danny thinks for a minute.
Yeah, that could be cool.
And the quick prompt contest is from sharkly agent, Janet Reid. Appropriate during Shark Week! Here are the 5 words to write a quick 100 word story.
echo
"Fever check!" T-bone said and smacked his buddy in the forehead on his way out.
The glow in the sky told him he'd better have a good excuse for being out all night again.
He cruised home on his Harley and never saw the branch in the road. As he sailed into a spectacular roll down the hill, the last words he said to the gal in the bar echoed in his head, Gotta live like you'll die tomorrow.
T-bone smiled with no regrets as his guts oozed like jelly onto the pavement.